SHARPP honors national Sexual Assault Awareness Month (SAAM) every April alongside other organizations across the country. Together, we work towards bringing awareness and prevention to sexual assault, harassment, and violence in our respective communities. Every April, SHARPP hosts a myriad of awareness events and prevention programs for UNH students, faculty, and staff members. Our goal for this month is more than just bringing "awareness" to the prevalence of sexual violence. We move through and beyond that awareness raising objective to center preventing violence from happening in the first place AND inspiring collective activism in order to create community change. 
Preventing violence from happening is a community-wide effort and responsibility. The movement to end sexual violence began with (and continues to be driven today by) community advocacy, student activism, and grassroots community organizing. We invite you to be part of the solution by learning more about sexual violence, sharing what you learned with others, and engaging in direct action opportunities to further cultivate social change. Below you'll find more information about the roots of this movement and helpful strategies on ways to get involved. 
Roots of the Movement
Although SAAM has only officially been recognized nationally since 2001, it is important to note that anti-violence initiatives and advocacy have been present at UNH since the 1970's. SHARPP itself (formerly known as the Rape Task Force) began in 1978 and came to be as a result of community & student activism. Zooming out to look at the national history of anti-violence work- we can turn to the 1940s and 1950s where movements for equality and social change began to gain traction with the civil rights movement (NSVRC, 2021). Advocates that championed these efforts (like Audre Lorde, Rosa Parks, Coretta Scott King, Maya Angelou) worked at the intersections of race-based and gender-based violence in their activism efforts. By the 1970's, there was a demand for wide-spread social change around issues of sexual violence. In 1971, the first rape crisis center was founded in San Francisco and a few years later this would be the same site of the first Take Back The Night event (NSVRC, 2021).
Throughout the following decades there became a steady growth of Take Back The Night events, marches, and protests that elaborated the conversation around sexual violence. Marches spanned from demanding more resources and safety for women attending college, protesting against violent pornography films, to displays of outrage after the murder of women at night (Take Back The Night, 2021). From the 1970s to today anti-violence activists have been holding events, marches, vigils, observances, and protests focused on ending sexual violence. This community organizing is honored, celebrated, and continued today with our national Sexual Assault Awareness Month. At SHARPP, we like to think of this month as a continuation and amplification of the anti-violence work we engage in year round. We invite you to use this month to get involved in bringing attention to and preventing sexual violence- and then take what you learned with you long past the end of April.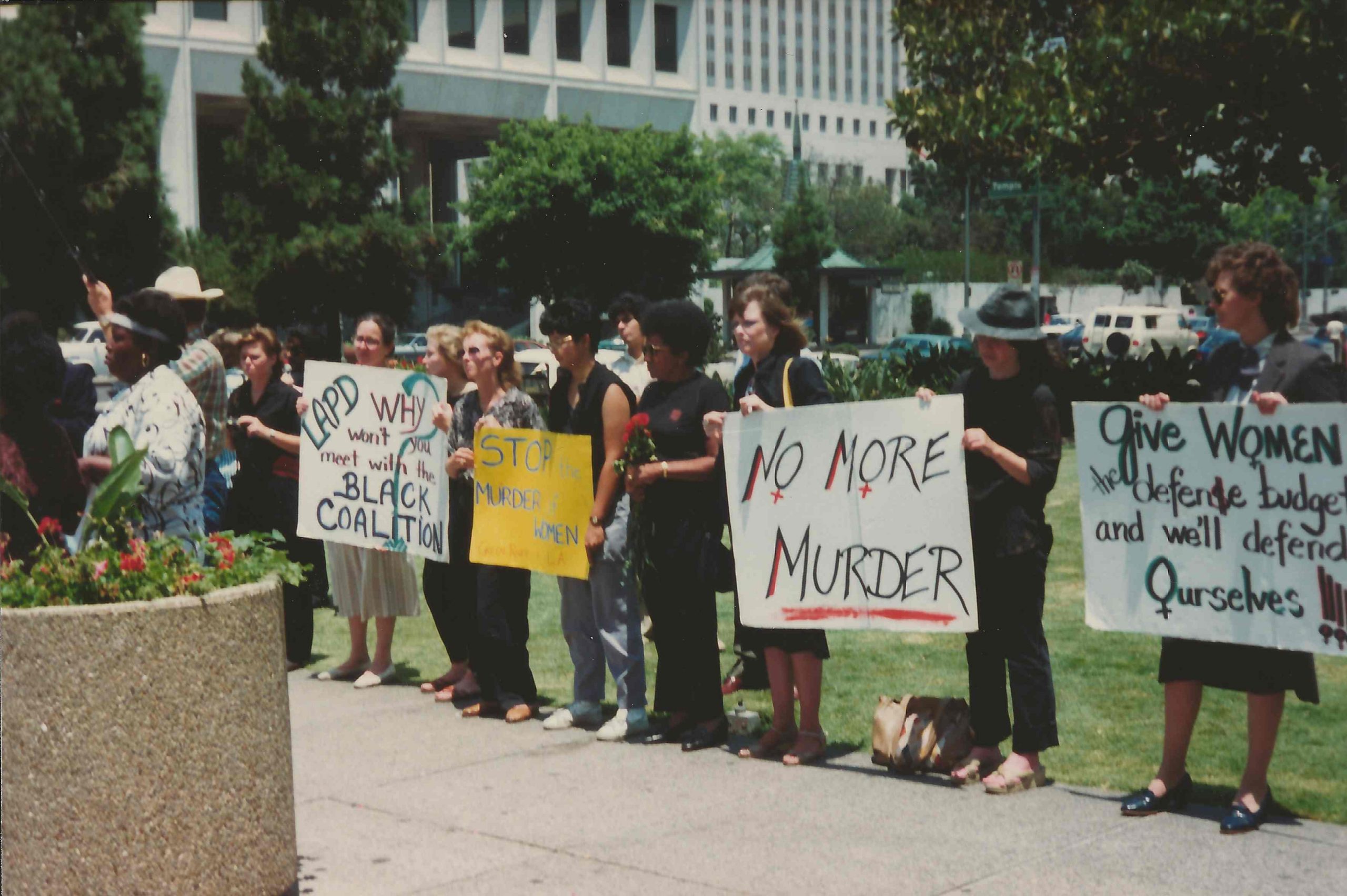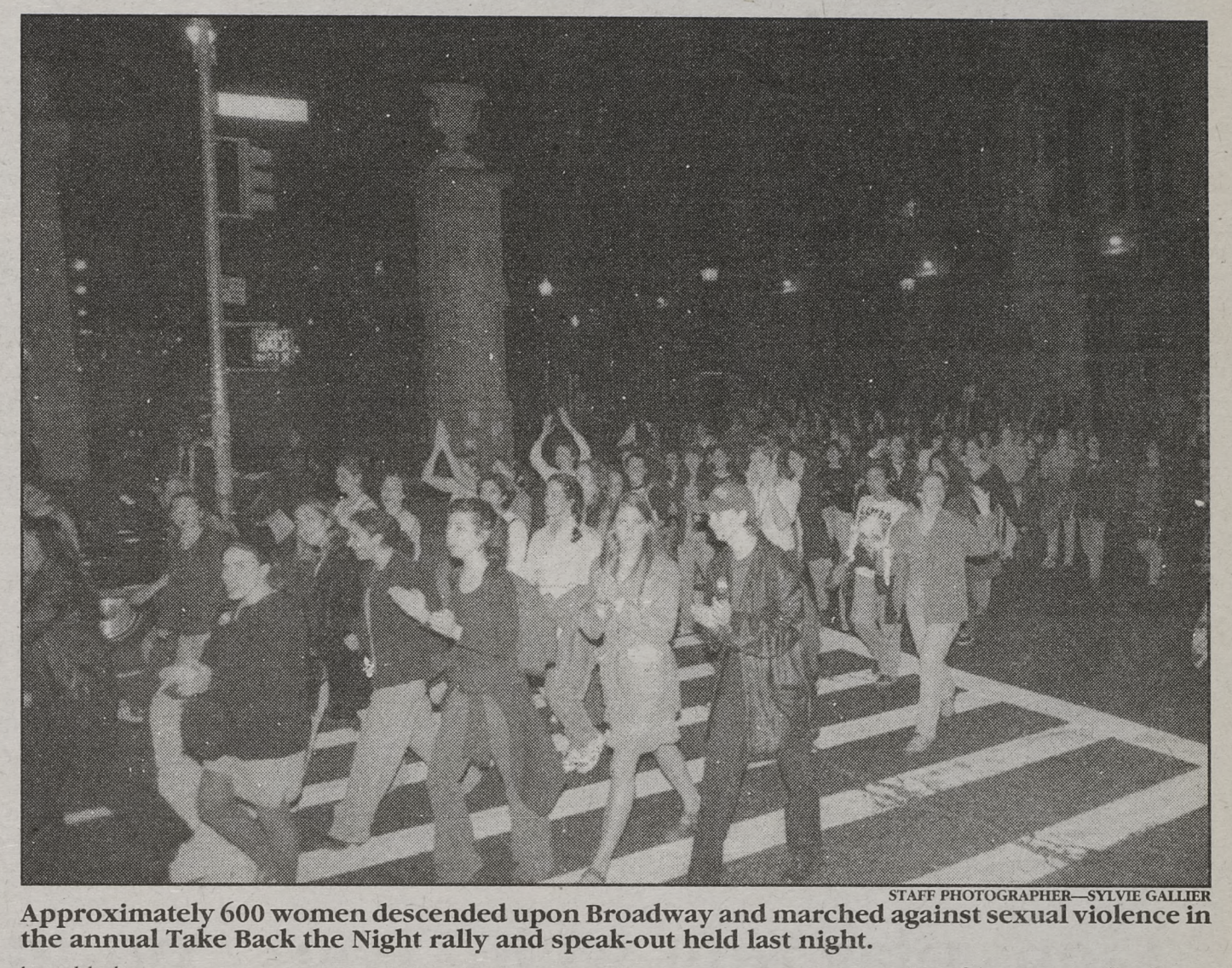 Get Involved & Create Community Change
Ending sexual violence is a community-wide effort and responsibility. When we begin to embrace this concept, it becomes easier to enact social change. Transforming our UNH community to be a space free from violence, harassment, abuse, discrimination, and oppression starts and ends with us. Below are some suggestions and strategies on ways you can get involved in bringing attention to and preventing sexual violence (both within and outside of SAAM)!
Further educate yourself on interpersonal violence: 
Learn about the widespread prevalence of IPV, its impact on individuals and communities, what it consists of and how to recognize warning signs, the historical and current landscape of this issue, who is disproportionately affected by violence, what SV looks like here at UNH, and more. 
You can do this by:
- Attending upcoming SHARPP events and programs
- Watching documentaries or tuning into a podcast series that focuses on IPV
- Reading books, articles, blogs, and content by survivors and those who have experienced violence. Check out our recommended readings here!
- Registering for a UNH course that dives into the topic of IPV, oppression, power, and abuse. Women & Gender Studies, Social Work, Sociology, and Justice Studies are great academic departments that would offer this
- Following SHARPP on social media | @UNHSHARPP on Twitter, Instagram, Facebook, Goodreads, and TikTok
- Signing up for our SHARPP Leaders Institute summit/deep-dive learning opportunity
- Staying up to date on local, state, and federal policies/laws that relate back to IPV, survivors, and violence prevention
- Learning about common myths and misconceptions related to sexual violence (and strategies on myth busting for those around us)
- Educating yourself on ways to support a friend and necessary skills for being an active bystander 
 
Bring education back to your respective community:
Share what you've learned about IPV with your peers, and find ways to create additional learning opportunities in the spaces you occupy.
You can do this by:
- Beginning discussions with your friends, classmates, roommates, colleagues and family members about how sexual violence affects our communities
- Scheduling a prevention education program for your res hall, athletic team, student organization, office, FSL chapter, department, classroom, etc
- Becoming a volunteer with SHARPP or joining our FSL SHARPP Liaison program
- Sharing our social media content on your personal or student organization accounts
- Hosting and planning a collaborative event for your respective community (whether that be an awareness raising initiative or an educational event)
- Modeling and promoting active bystander intervention skills within your peer groups. Making bystander intervention trainings available to others
- Disseminating accurate facts and figures around sexual violence and speaking up when myths and misinformation surface
 
Engage in advocacy and direct action opportunities:
Commit to signing petitions or letter writing, call your local legislators, participate in community organizing initiatives, and more!
You can do this by:
- Writing letters to (or contacting) your local newspapers about the importance of raising awareness around sexual violence on college campuses
- Participating in SHARPP's Direct Action for Incarcerated Survivors campaign, and/or collaborating with organizations like Survived & Punished, Love + Protect, Black and Pink
- Partnering with social change organizations such as; Know Your IX, One Love, End Rape on Campus, Futures Without Violence, and so many more
- Signing or creating petitions to further allocate resources to IPV issues and prevention
- Calling your respective senators and representatives to share your thoughts + opinions around sexual violence, college campuses, and the student experience
- Donating time, money, and resources to organizations that are survivor-centered and working to not only bring awareness to IPV but prevent it from happening in the first place. This might look like helping an organization launch a fundraising campaign or sharing an already existing fundraising opportunity on your social media profiles
- Advocating for additional violence prevention educational opportunities (whether for you academic department, student organization, chapter, team, or classroom)
- Holding people within your respective communities accountable for their words and actions
- Hosting and/or attending marches, observances, vigils, rallys, etc that center survivors and IPV issues
This is not an exhaustive list of suggestions & strategies, but rather should be viewed as potential starting points in your own personal involvement journey! 

Additional SAAM Resources
NSVRC
No More
New Hampshire Coalition Against Domestic & Sexual Violence (NHCADSV)